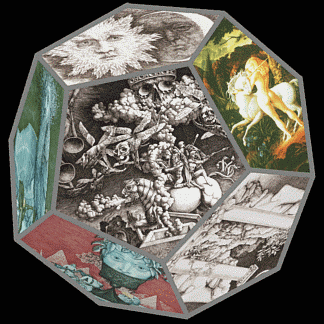 For his art prints,
above all, Peter Proksch is
using the technics of etching and of lithograph.
Etching is an intaglio printing method in which the artist
draws with a needle on a coated metallplate, Proksch is using
a copperplate. In an acid bath, the scratched drawing
is etched into the plate.
Lithograph is a flatbed printing method, originally the artist is
drawing on a special prepared stoneplate. Nowadays zincplates
or plastic sheets are mainly used.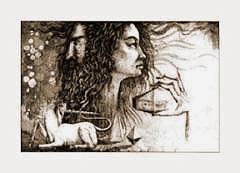 JANUSKOPF
Etching, copper 10,5 x 15,5 cm
1963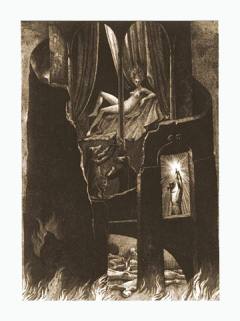 DIE ZAUBER DER FALSIRENIA
Print 4 of "El Criticon"
Etching, copper 30 x 21 cm
1967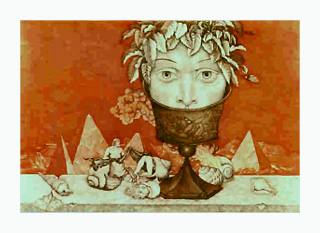 MAGISCHES STILLEBEN
Etching, copper / 2 plates 26,5 x 38,5 cm
1975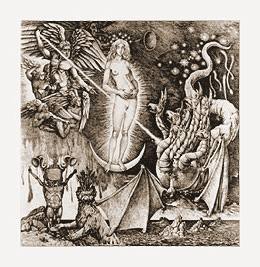 SONNENWEIB UND DRACHE
Print 4 of "Die Apokalypse"
Etching, copper 34,5 x 34,5 cm
1984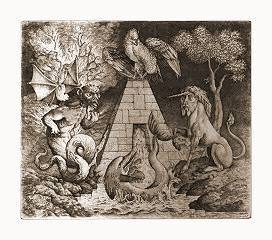 DIE VIER ELEMENTE
Print 4 of "Sieben magische Blätter"
Etching, copper 23,5 x 27,5 cm
1987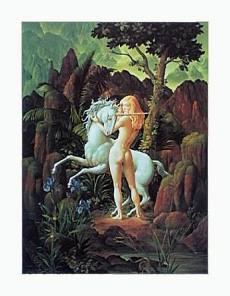 DIE SCHÖNE UND DAS EINHORN
Lithograph 46,9 x 35 cm
1999
Copyright © 2007 Peter Proksch. All rights reserved