Heide Proksch was born in Mährisch Ostrau, now situated in Cechska, in 1942. She came, in 1945, together with her mother and her elder sister to Vienna where she spent her childhood and the school days.
1960 she completed her studies with the diploma of the Academy of Commerce. Next she's working as a translator and later on as executive secretary.
Since 1965 she is married to the painter Peter Proksch and 1968 she decided to finish her commercial career and have a new start as a student of artistic textile techniques at the Academy for Applied Arts in Vienna. The designs for her tapestries are nearly exclusively coming from her husband, Peter Proksch and she also shows her work in common exhibitions.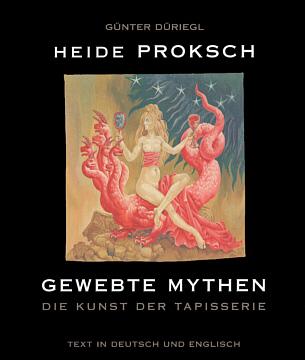 Heide Proksch
WOVEN MYTH
The art of tapestry
Introduction by Dr. Günter Düriegl
25 x 21 cm
112 pages, continuous four-colored print
text in german and english
AMALTHEA VERLAG WIEN,
ISBN 3-85002-556-X